Global fortune 500 is the list of 500 companies in the world which are measured based on their revenue. This list is compiled and measured by the Fortune magazine every year. Global Fortune 500 was born in year 1995, before year 1995 fortune magazine only published 500 list of USA companies. Cutoff date for measuring revenue is on or before march 31st . Every year list changes its geographical location, please see below maps. To qualify for the 500 list all the companies should publish their revenue to their government agencies. Company get's disqualified if they did not publish their revenue.
We have included data from year 2005 to 2014 and lots of changes has happened . On 2005 North America total number of companies  were 189 and in 2014 changed to 141. In same way, Asian company were 123 on year 2005 and 197 in 2014. Other interesting figure that we notice is on 2005, total USA companies were 175 which got decreased to 131 in year 2014. But China saw huge growth from 18 company in year 2005 to 95 in year 2014. So much change has happened within a decade and this listing keep on changing it,s location. It will be interesting to see global fortune 500 list for year 2015.
Forbes magazine also publish list of Global 2000 companies every year.
Quick Comparison Between Six Countries:

China changed it's fortune from 47 in year 2010 to 95 in year 2014. United kingdom did not see major changes while USA lost 10 companies within 5 years. In same way Japan lost 14 companies within 5 years and France ,Germany both lost their fortune.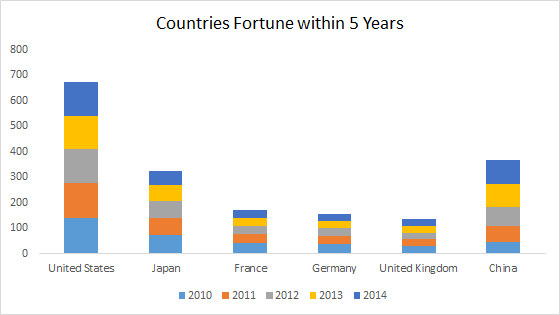 I would like to give credits to following websites from where I collected data but not responsible for any errors or omissions . http://en.wikipedia.org/wiki/Fortune_Global_500, http://fortune.com/global500/, http://topforeignstocks.com/downloads/, http://www.economywatch.com/fortune-500-companies
http://geocommons.com/ (gis data)
Global Fortune 500 Companies List by the
Year

2015
Charts

Maps

Data

Continent

Country

Total Number

Percentage of Total

Asia

China

18

3.6%

India

5

1.0%

Japan

81

16.2%

Russia

3

0.6%

Saudi Arabia

1

0.2%

Singapore

1

0.2%

South Korea

11

2.2%

Taiwan

1

0.2%

Thailand

1

0.2%

Turkey

1

0.2%

Sub – Total

123

24.6%

Europe

Belgium

4

0.8%

Denmark

2

0.4%

Finland

3

0.6%

France

40

8.0%

Germany

34

6.8%

Ireland

2

0.4%

Italy

10

2.0%

Netherlands

13

2.6%

Norway

2

0.4%

Spain

7

1.4%

Sweden

7

1.4%

Switzerland

14

2.8%

United Kingdom

33

6.6%

Sub – Total

171

34.2%

North America

Canada

14

2.8%

United States

175

35.0%

Sub – Total

189

37.8%

Oceania

Australia

11

2.2%

Sub – Total

11

2.2%

South America

Brazil

4

0.8%

Mexico

2

0.4%

Sub – Total

6

1.2%

Total

500

100.0%
2006

Charts

Maps

Data

Continent

Country

Total Number

Percentage of Total

Asia

China

21

4.2%

India

6

1.2%

Japan

70

14.0%

Russia

5

1.0%

Saudi Arabia

1

0.2%

Singapore

1

0.2%

South Korea

12

2.4%

Taiwan

3

0.6%

Thailand

1

0.2%

Turkey

1

0.2%

Sub – Total

121

24.2%

Europe

Austria

1

0.2%

Belgium

5

1.0%

Denmark

2

0.4%

Finland

2

0.4%

France

39

7.8%

Germany

33

6.6%

Ireland

2

0.4%

Italy

11

2.2%

Netherlands

12

2.4%

Norway

2

0.4%

Spain

8

1.6%

Sweden

6

1.2%

Switzerland

15

3.0%

United Kingdom

36

7.2%

Sub – Total

174

34.8%

North America

Canada

15

3.0%

United States

170

34.0%

Sub – Total

185

37.0%

Oceania

Australia

10

2.0%

Sub – Total

10

2.0%

South America

Brazil

5

1.0%

Mexico

4

0.8%

Venezuela

1

0.2%

Sub – Total

10

2.0%

Total

500

100.0%
Charts

Maps

Data

Continent

Country

Total Number

Percentage of Total

Asia

China

25

5.0%

India

6

1.2%

Japan

67

13.4%

Russia

4

0.8%

Saudi Arabia

1

0.2%

Singapore

1

0.2%

South Korea

14

2.8%

Taiwan

5

1.0%

Thailand

1

0.2%

Turkey

1

0.2%

Sub – Total

125

25.0%

Europe

Austria

1

0.2%

Belgium

6

1.2%

Denmark

2

0.4%

Finland

3

0.6%

France

39

7.8%

Germany

35

7.0%

Ireland

3

0.6%

Italy

10

2.0%

Netherlands

12

2.4%

Norway

2

0.4%

Poland

1

0.2%

Spain

8

1.6%

Sweden

6

1.2%

Switzerland

16

3.2%

United Kingdom

31

6.2%

Sub – Total

175

35.0%

North America

Canada

17

3.4%

United States

162

32.4%

Sub – Total

179

35.8%

Oceania

Australia

10

2.0%

Sub – Total

10

2.0%

South America

Brazil

6

1.2%

Mexico

5

1.0%

Sub – Total

11

2.2%

Total

500

100.0%
Charts

Maps

Data

Continent

Country

Total Number

Percentage of Total

Asia

China

30

6.0%

India

7

1.4%

Japan

64

12.8%

Russia

5

1.0%

Saudi Arabia

1

0.2%

Singapore

1

0.2%

South Korea

16

3.2%

Taiwan

5

1.0%

Thailand

1

0.2%

Sub – Total

130

26.0%

Europe

Austria

2

0.4%

Belgium

6

1.2%

Denmark

2

0.4%

Finland

2

0.4%

France

40

8.0%

Germany

36

7.2%

Ireland

3

0.6%

Italy

10

2.0%

Luxembourg

1

0.2%

Netherlands

13

2.6%

Norway

2

0.4%

Poland

1

0.2%

Portugal

1

0.2%

Spain

10

2.0%

Sweden

6

1.2%

Switzerland

16

3.2%

United Kingdom

33

6.6%

Sub – Total

184

36.8%

North America

Canada

14

2.8%

United States

152

30.4%

Sub – Total

166

33.2%

Oceania

Australia

9

1.8%

Sub – Total

9

1.8%

South America

Brazil

6

1.2%

Mexico

5

1.0%

Sub – Total

11

2.2%

Total

500

100.0%
Charts

Maps

Data

Continent

Country

Total Number

Percentage of Total

Asia

China

38

7.6%

India

7

1.4%

Israel

1

0.2%

Japan

68

13.6%

Russia

7

1.4%

Saudi Arabia

1

0.2%

Singapore

2

0.4%

South Korea

15

3.0%

Taiwan

5

1.0%

Thailand

1

0.2%

Sub – Total

145

29.0%

Europe

Austria

2

0.4%

Belgium

5

1.0%

Denmark

2

0.4%

Finland

2

0.4%

France

41

8.2%

Germany

38

7.6%

Hungary

1

0.2%

Ireland

2

0.4%

Italy

10

2.0%

Luxembourg

1

0.2%

Netherlands

12

2.4%

Norway

1

0.2%

Poland

1

0.2%

Portugal

2

0.4%

Spain

11

2.2%

Sweden

6

1.2%

Switzerland

16

3.2%

United Kingdom

26

5.2%

Sub – Total

179

35.8%

North America

Canada

14

2.8%

United States

140

28.0%

Sub – Total

154

30.8%

Oceania

Australia

10

2.0%

Sub – Total

10

2.0%

South America

Brazil

7

1.4%

Mexico

4

0.8%

Venezuela

1

0.2%

Sub – Total

12

2.4%

Total

500

100.0%
Charts

Maps

Data

Continent

Country

Total Number

Percentage of Total

Asia

China

47

9.4%

India

8

1.6%

Japan

71

14.2%

Russia

6

1.2%

Saudi Arabia

1

0.2%

Singapore

2

0.4%

South Korea

11

2.2%

Taiwan

7

1.4%

Thailand

1

0.2%

Sub – Total

154

30.8%

Europe

Austria

3

0.6%

Belgium

5

1.0%

Denmark

2

0.4%

Finland

1

0.2%

France

40

8.0%

Germany

36

7.2%

Ireland

2

0.4%

Italy

11

2.2%

Luxembourg

1

0.2%

Netherlands

14

2.8%

Norway

1

0.2%

Poland

1

0.2%

Spain

9

1.8%

Sweden

5

1.0%

Switzerland

15

3.0%

United Kingdom

29

5.8%

Sub – Total

175

35.0%

North America

Canada

11

2.2%

United States

141

28.2%

Sub – Total

152

30.4%

Oceania

Australia

9

1.8%

Sub – Total

9

1.8%

South America

Brazil

8

1.6%

Mexico

1

0.2%

Venezuela

1

0.2%

Sub – Total

10

2.0%

Total

500

100.0%
Charts

Maps

Data

Continent

Country

Total Number

Percentage of Total

Asia

China

62

12.4%

India

8

1.6%

Japan

68

13.6%

Russia

7

1.4%

Saudi Arabia

1

0.2%

Singapore

2

0.4%

South Korea

15

3.0%

Taiwan

7

1.4%

Thailand

1

0.2%

Sub – Total

171

34.2%

Europe

Austria

1

0.2%

Belgium

5

1.0%

Denmark

2

0.4%

Finland

1

0.2%

France

36

7.2%

Germany

33

6.6%

Hungary

1

0.2%

Ireland

2

0.4%

Italy

10

2.0%

Luxembourg

1

0.2%

Netherlands

12

2.4%

Norway

1

0.2%

Poland

1

0.2%

Spain

8

1.6%

Sweden

3

0.6%

Switzerland

17

3.4%

United Kingdom

28

5.6%

Sub – Total

162

32.4%

North America

Canada

11

2.2%

United States

135

27.0%

Sub – Total

146

29.2%

Oceania

Australia

9

1.8%

Sub – Total

9

1.8%

South America

Brazil

8

1.6%

Colombia

1

0.2%

Mexico

2

0.4%

Venezuela

1

0.2%

Sub – Total

12

2.4%

Total

500

100.0%
Charts

Maps

Data

Continent

Country

Total Number

Percentage of Total

Asia

China

74

14.8%

India

8

1.6%

Japan

68

13.6%

Russia

7

1.4%

Saudi Arabia

1

0.2%

Singapore

2

0.4%

South Korea

14

2.8%

Taiwan

5

1.0%

Thailand

1

0.2%

United Arab Emirates

1

0.2%

Sub – Total

181

36.2%

Europe

Austria

1

0.2%

Belgium

4

0.8%

Denmark

1

0.2%

Finland

1

0.2%

France

33

6.6%

Germany

31

6.2%

Hungary

1

0.2%

Ireland

2

0.4%

Italy

9

1.8%

Luxembourg

1

0.2%

Netherlands

12

2.4%

Norway

1

0.2%

Poland

1

0.2%

Spain

8

1.6%

Sweden

4

0.8%

Switzerland

15

3.0%

United Kingdom

25

5.0%

Sub – Total

150

30.0%

North America

Canada

11

2.2%

United States

134

26.8%

Sub – Total

145

29.0%

Oceania

Australia

10

2.0%

Sub – Total

10

2.0%

South America

Brazil

9

1.8%

Colombia

1

0.2%

Mexico

3

0.6%

Venezuela

1

0.2%

Sub – Total

14

2.8%

Total

500

100.0%
Charts

Maps

Data

Continent

Country

Total Number

Percentage of Total

Asia

China

89

17.8%

India

8

1.6%

Indonesia

1

0.2%

Japan

62

12.4%

Malaysia

1

0.2%

Russia

7

1.4%

Saudi Arabia

1

0.2%

Singapore

2

0.4%

Taiwan

6

1.2%

Thailand

1

0.2%

Turkey

1

0.2%

South Korea

14

2.8%

United Arab Emirates

1

0.2%

Sub – Total

194

38.8%

Europe

Austria

1

0.2%

Belgium

3

0.6%

Denmark

1

0.2%

Finland

1

0.2%

France

31

6.2%

Germany

29

5.8%

Hungary

1

0.2%

Ireland

2

0.4%

Italy

8

1.6%

Luxembourg

2

0.4%

Netherlands

11

2.2%

Norway

1

0.2%

Poland

1

0.2%

Spain

8

1.6%

Sweden

3

0.6%

Switzerland

14

2.8%

United Kingdom

27

5.4%

Sub – Total

144

28.8%

North America

Canada

9

1.8%

United States

132

26.4%

Sub – Total

141

28.2%

Oceania

Australia

8

1.6%

Sub – Total

8

1.6%

South America

Brazil

8

1.6%

Colombia

1

0.2%

Mexico

3

0.6%

Venezuela

1

0.2%

Sub – Total

13

2.6%

Total

500

100.0%
Charts

Maps

Data

Continent

Country

Total Number

Percentage of Total

Asia

China

95

19.0%

India

8

1.6%

Indonesia

2

0.4%

Japan

57

11.4%

Russia

8

1.6%

Saudi Arabia

1

0.2%

Singapore

2

0.4%

South Korea

17

3.4%

Taiwan

4

0.8%

Thailand

1

0.2%

Turkey

1

0.2%

United Arab Emirates

1

0.2%

Sub – Total

197

39.4%

Europe

Austria

1

0.2%

Belgium

2

0.4%

Denmark

1

0.2%

Finland

1

0.2%

France

32

6.4%

Germany

27

5.4%

Ireland

2

0.4%

Italy

9

1.8%

Luxembourg

1

0.2%

Netherlands

12

2.4%

Norway

1

0.2%

Poland

1

0.2%

Spain

8

1.6%

Sweden

3

0.6%

Switzerland

12

2.4%

United Kingdom

27

5.4%

Sub – Total

140

28.0%

North America

Canada

10

2.0%

United States

131

26.2%

Sub – Total

141

28.2%

Oceania

Australia

9

1.8%

Sub – Total

9

1.8%

South America

Brazil

8

1.6%

Chile

1

0.2%

Colombia

1

0.2%

Mexico

2

0.4%

Venezuela

1

0.2%

Sub – Total

13

2.6%

Total

500

100.0%