Today, any person has the opportunity to access satellite images of our planet for free. Satellite imagery is a valuable source of data for many companies and products, including forest monitoring app providers. Fortunately, they are available for everyone.
You can create animated satellite maps and track various events on the Earth's surface for free. It's pretty simple. You just need to have a computer and an internet connection. Applying an analytical approach to the data obtained, you can observe hard-to-reach regions. It's also possible to identify the consequences of disasters, monitor changes in the Earth's surface, and create new objects. Check out our compilation of free satellite images providers.
1. NASA Worldview

The app is designed for interactive viewing of satellite images by EOSDIS NASA. Images are provided in full resolution. You can get data on eliminating fires, floods, other natural disasters, and air conditions for free. NASA Worldview is easy to use with a tablet, smartphone, or PC. If you would like to learn more about the app's capabilities and features, the detailed tutorials are available online.
2. Zoom Earth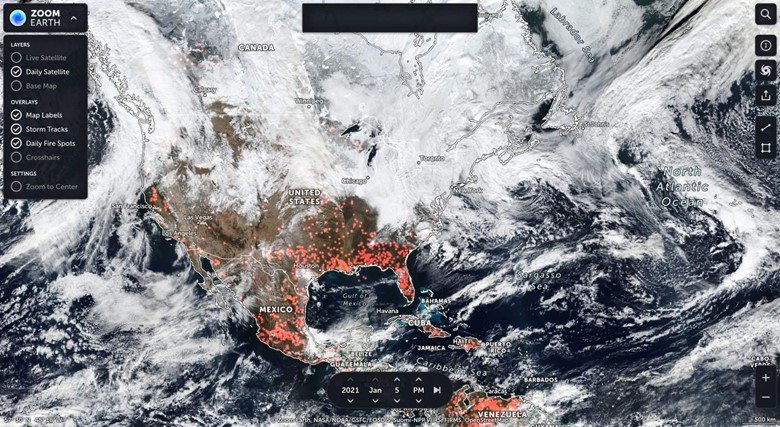 You can view the latest satellite imagery and aerial views on a fast, zoomable map in Zoom Earth. By zooming in, users get multiple resolution options. The platform receives updated data every 10-15 minutes from a range of sources. One of the most significant features of this platform is that real-time images are available.
The users can also get historical images. They are updated every few months. You can use them to analyze changes on our planet. For example, it's an excellent way to observe the state of glaciers. Zoom Earth is also a perfect option if you like to look over photos from different parts of the world.
3. Google Earth

On Google Earth are available the Landsat-8 satellite imagery. Besides, there are Images from planes, kites, and UAVs. The images' resolution may vary by region. There are also two representations of our planet: 2D and 3D.
This platform does not offer live viewing. However, you can get information on various weather events and disasters, including storms, wildfires, floods, and more. You also get data about wind speed and atmospheric pressure.
You can use the regular or Pro version. By choosing the latter, you will also get access to premium quality photos and advanced features. Pro account users can view historical data and get GIS data import and export features.
4. USGS Earth Explorer

USGS Earth Explorer offers genuinely excellent and even unique opportunities. Users gain access to an extensive library of satellite data. Landsat provides fresh high-resolution satellite imagery.
There are also a few surprises in store for you. For example, spy satellite data with which you can travel 50 years ago. They used to be strictly classified, but are now available to the public for viewing.
Furthermore, Earth Explorer gives you access to unique hyperspectral imagery. They are only available here and were made by the Hyperion. It is an experimental instrument by NASA.
5. DigitalGlobe Open Data Program

If you need high-resolution satellite imagery for free, DigitalGlobe might be precisely what you're looking for. The whole library is not available for free downloading, but there are images with Creative Commons license and imagery samples. Open data is provided for natural disasters cases so that the affected areas can get help. You can also upload an image sample for your experiments in high resolution.
6. Landviewer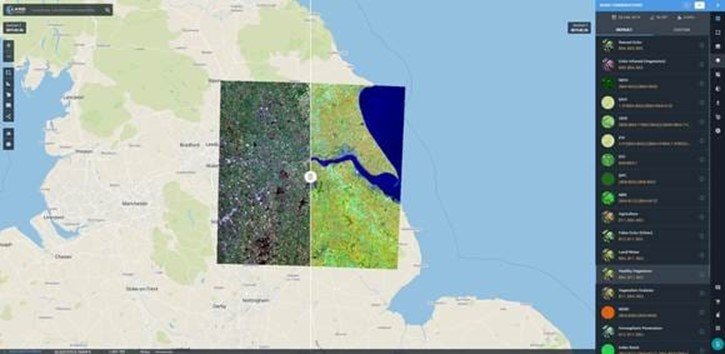 LandViewer is an online GIS assistant equipped with on-the-fly searching and processing features to extract valuable information from satellite data to find neat solutions for your business. It's also compatible with other GIS tools so that you can integrate Landviewer data with 3d party software with the help of Web Maps Service.
​​Order high-resolution satellite images for analytics from all over the globe in Land Viewer. Highlight your AOIs on the map, and the server will focus on them to offer you matching imagery. It will save you time and money.
You can process images online. The on-the-fly processing allows you not to spend a lot of time and effort. Furthermore, due to on-the-fly spectral indices calculating, a processed image is available for an easy and fast download. Take advantage of a wide range of other LandViewer features, including raster processing tools and clustering to focus on the particular types of data, time-lapse animation to create a video, among many others.
7. Copernicus Open Access Hub

This tool provides access to open datasets that can be loaded directly through the API. It is an excellent option for application developers who need low-resolution imagery. The use of Copernicus Open Access Hub is limited. It is intended for commercial apps.
8. Sentinel Hub

The Sentinel Hub is a popular source for satellite data. Images covering the entire globe are updated once a week, and users also have access to archived data. Shots are offered in a variety of ranges, including near-infrared, blue, and green. Data set SAR is also available for free. It is ideal for monitoring and detecting changes over time, allowing images to be taught at any time of the day and through the clouds.
This platform is perfect for those who are experienced in geospatial data research and analysis. It can be a little tricky for a beginner. However, if you are a researcher or scientist who has already worked in this field before, there will be no problems with the use, and you can get free images with additional tools.
Final Thoughts

Getting satellite imagery is not a super task today, even if you're looking for free options. Image platforms offer different viewing and resolution options. The users can find near-time, real-time and historical data. These options give you a chance to compare pictures from different times and follow the changes on our planet.
Among other things, the sources also provide free image processing and analytics. You can find anything you want, including historical data and spy images from 50 years ago. Choose a provider based on your needs.