Have you ever kept track of the time you spend monitoring areas with remote sensing images? If you have dozens of territories you need to keep an eye on, this seemingly quick checkup can take up hours of your time. Why not let a computer algorithm carry out this mundane task and send you an alert if there's anything you need to act on?

This idea has already been implemented by EOS Data Analytics in the cloud-based LandViewer
service. The new notification manager is an automated alert system which keeps users up to date on even the slightest changes detected in their Areas of Interest (AOIs). It sends out push and email notifications, saving time and drawing the user's attention to the spots potentially at risk so that immediate action can be taken before it's too late.
Such actionable alerts can be of great use in agricultural monitoring, forest management, snow cover monitoring, flood or fire detection, and any other fields where satellite data-derived insights are needed for timely decision-making. And here's why.

1. Up-to-date and actionable alerts

Before the launch of the notification feature, detecting changes in vegetation, for instance, required at least three steps: sifting through satellite images, generating an NDVI image, and comparing current vs. past values. Now, this can be done in just one step: checking your mailbox for LandViewer alerts generated from the latest satellite scene.

By means of the notification manager's flexible settings, users can set the frequency of notifications to either each "new scene" or "once per month", whichever they are more comfortable with. If the frequency is too high or low, the "Edit" button allows the necessary changes to be made at any time, including setting up new subscriptions or canceling existing ones.

2. Digest of AOI changes – just the essentials

The amount of available satellite data can be overwhelming, especially to those who don't have any background in GIS or need to repeatedly monitor changes in many areas. Valuing the time of every user out there, LandViewer email notifications are as brief and informative as possible to serve only the most essential data, such as date, index values, and value changes.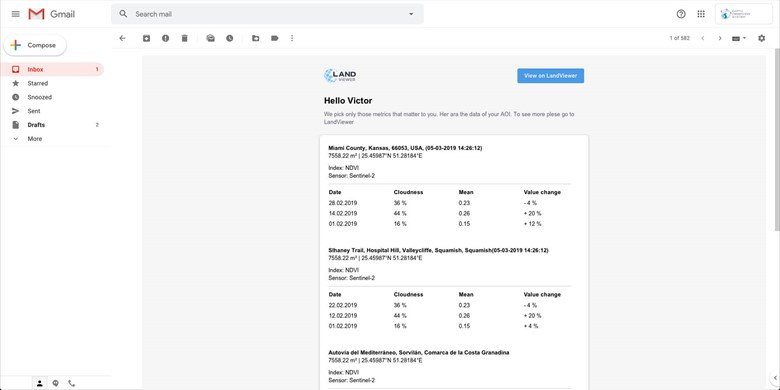 Agricultural consultants can be assigned with monitoring dozens (if not hundreds) of fields, and the manual review of vegetation indices in each can be really time-consuming. LandViewer allows subscription to notifications across up to 100 different AOIs, making the task of observing NDVI vegetation value changes across multiple fields so much easier. And, if there are subscriptions to more than ten areas of interest, the system will only include the 5 largest and 5 smallest index value changes across all AOIs in the notification email.

3. Monitoring AOIs off the platform

GIS, remote sensing specialists and non-expert users are no longer required to spend considerable time using LandViewer to know what's going on in their fields, forests, coastlines or whatever it is that they monitor. A brief overview of how crop and tree conditions, snow cover, water content etc. have changed across territories can be delivered in a single email according to their preferences. Currently, notifications can be set for all available spectral indices (NDVI, NDWI, NDSI, SAVI, ARVI, EVI, GCI, SIPI, NBR) derived from data of the ongoing passive satellite missions such as Sentinel-2, Landsat 8, and CBERS-4.

For example, forest managers can set up monthly notifications to detect areas in which there have been changes in forest cover (caused by illegal logging or other deforestation drivers) with Sentinel-2 data and NDVI, by definition used for vegetation analysis. LandViewer will send an email once a month, with all the value changes derived from up to 7 scenes (depending on satellite passes and weather conditions).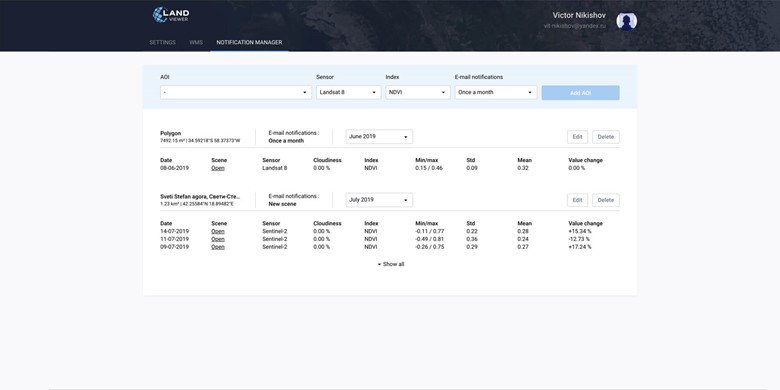 Clicking the "Open" button in the email will take the user directly to LandViewer, where they can access full details of the NDVI changes.

Deforestation that occurred in Beng Per Wildlife Sanctuary, Cambodia, from December 2018 to March 2019; Sentinel-2 data.

Enabling notifications in LandViewer

To set up a subscription to vegetation or other indices changes in AOIs, it is necessary to select the sensor, index, and email frequency parameters in the notification manager. Email frequency can be changed or they can be canceled at any time whenever needed.

Sign up for notifications now and stay informed of all AOI changes!